In today's digital age, organizations are overflowing with an ever-growing amount of information within their digital workplaces. However, it's not just the sheer volume that poses a challenge; the complexity of this information is also on the rise. In this dynamic and fast-paced environment, ensuring that the information we rely on for decision-making is trustworthy,…
Blog
Digital workplace
Intranets
Search & findability
Is using Microsoft Teams as an intranet really the way forward, or should we be looking to combine the benefits of both with a view to building a stronger user experience?
Blog
Intranets
Microsoft Viva, the employee engagement platform that Microsoft launched in early 2021, continues to attract a great deal of interest from digital workplace teams, intranet professionals, HR functions and internal communicators. Yet, up to now, it is perhaps still not that well known to end users as a platform they use every day. However, in…
Blog
Artificial intelligence and automation
Collaboration
Digital workplace
Intranets
Research reports
In 2023, we're excited to add six new original research papers to our existing library of over 100 reports and 200 case studies. You can see all the details in the new fact sheet for the programme. DWG's CEO, Nancy Goebel, says: "In our year-end 2022 feedback survey, DWG members told us that they use…
Blog
Digital literacy
Digital workplace
Future of work
Intranets
Metrics & measurement
Research reports
Strategy & governance
If you're at the planning stage of setting up a new intranet, you'll without doubt be concerning yourself with the subject of budget. And you'll be asking the question: How much does it cost to build an intranet?
Blog
Intranets
If we're not tracking how well our intranet is performing, how will we ever know if it's having the desired effect and helping us achieve our business goals? That's where intranet metrics become so valuable. But exactly what should we be measuring?
Blog
Intranets
Metrics & measurement
You've worked hard to make your new or revitalized intranet a star feature of your internal communications and productivity boosting strategy. But it won't promote itself. So it's time to nail down an intranet launch plan to make sure everyone gets the most out of your efforts.
Blog
Intranets
2022 has been quite a year for DWG. We celebrated our 20th anniversary since kicking off our very first member meeting way back in 2002; we held another brilliant Digital Workplace of the Year Awards, highlighting some excellent work in the digital workplace and intranet space; and our consulting work with Esteé Lauder Companies was…
Blog
Business intelligence
Communications
Content management
Digital communications
Digital employee experience
Digital Workplace of the Year Awards
Employee experience
Hybrid working
Intranets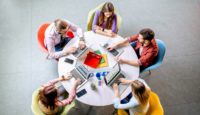 Well-managed intranets, at the core of any digital workplace, must satisfy the daily needs of employees by providing trustworthy, relevant and task-focused content in line with defined standards and controls. At the same time, they must align with broader organizational goals, relating to collaboration and remote working. A strategic approach to the planning, implementation and…
Blog
Content management
Internal communications
Intranets
Search & findability
When Microsoft announced the launch of Viva in early 2021 – a new 'employee experience' platform that is mainly delivered through Microsoft Teams across four distinct apps (Viva Connections, Learning, Topics and Insights) – there were huge levels of interest from a wide selection of different stakeholders including intranet and digital workplace teams. Fast forward…
Blog
Digital communications
Digital employee experience
Employee experience
Intranets
Research reports
Guest author, Annette Corbett, identifies some quick wins and reasons to be optimistic about the future of internal communications and content in the digital workplace.
Blog
Communications
Content management
Hybrid working
Internal communications
Intranets
Workplace productivity
In an April 2022 Technology Exchange, Unily talked about how its employee experience platform supports employee onboarding, demoing how the Unily team use it themselves for their own new starters. This post offers some takeaways from the session.
Blog
Digital employee experience
DWG Institute
Intranets
Strategy & governance