Want to subscribe to the DWG Podcast?
Latest episode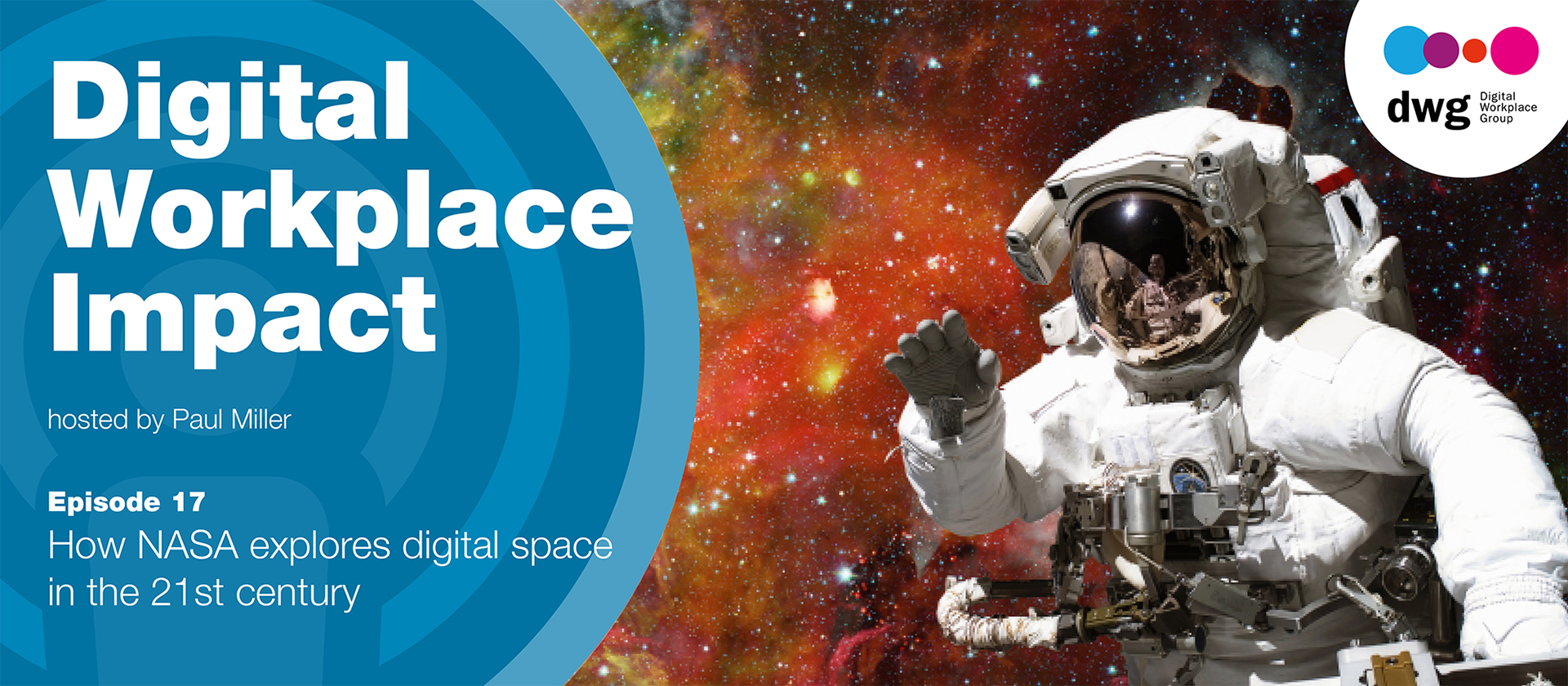 Episode 17
How NASA explores digital space in the 21st century
Since its inception in 1958, NASA has accumulated a wealth of data and information as part of its spectacular research programme. One of its most significant challenges is how to turn this data and information into actionable knowledge. As Chief Knowledge Architect, our guest, David Meza grapples with this challenge every day.
Hear David's thoughts on what it's like to work at NASA; our (sometimes unhealthy) dependency on technology; and how the digital workplace has influenced team dynamics (and the demise of the ego!).
Listen
Who is Paul Miller?
Paul Miller is CEO and Founder of the Digital Workplace Group. His latest book, 'The Digital Renaissance of Work: Delivering digital workplaces fit for the future' (co-authored with Elizabeth Marsh), was shortlisted for the CMI Management Book of the Year 2016 Award. Paul's previous book, 'The Digital Workplace: How technology is liberating work', helped to popularize and explain the term "digital workplace". Paul has given many inspirational talks on the digital future of work, for audiences at Microsoft, IKEA, Google, Accenture, Harvard Business Review, Cisco, European Commission, Adobe and Oxford University.
He was ranked one of the world's Top 50 Social Employee Advocacy Leaders in 2015 and was a Judge and Mentor for the Duke of York's Inspiring Digital Enterprise Awards. Paul hosted the pioneering internet radio show Digital Workplace Live for five years and is Executive Producer of the 24-hour global digital experience Digital Workplace 24.
Prior to founding DWG, Paul was Founder and CEO of communications company The Empowerment Group; Publisher and Editor of social and digital innovation magazine "Wave"; and, in pre-internet days, co-founder of the Ideas Café salon. He now lives in the Cotswolds in the UK.
Follow Paul on Twitter @paulmillersays
Other episodes
Episode 16
Season 1: Some of the best bits
As we close out our first season of Digital Workplace Impact, we've taken the opportunity in this episode to revisit some of the highlights. And what a season it was! We covered everything from the highs ignited by passionate people all the way down to the lows of the darker side of digital.
Listen
Episode 15
Driving for digital workplace success – with Williams Formula 1
Williams F1 is three years into a five-year digital and IT transformation programme. Graeme Hackland, CIO, talks to Paul Miller about how the digital workplace is helping the team to reach its shared goal: continually improving the performance of their F1 cars. He shares their journey to date, the challenges facing Williams and how the digital workplace has helped them to move forward.
Follow the conversation as Graeme reveals insights into his team's work and explains why Williams is more like other businesses than you might at first think – they just operate at a slightly faster pace!
Listen
Episode 14
How Vodafone won a Digital Workplace of the Year award
As runner-up in the Digital Workplace of the Year 2017 Awards, Vodafone has come a long way since embarking on its digital journey in 2008.
Sharon Doherty and Robert Leeson explain how the company has joined forces across the board to provide "a total experience for its employees"; expand on some of the initiatives that most impressed the judges; and discuss what they believe has been key to Vodafone's success.
Listen
View all Podcasts