Want to subscribe to the DWG Podcast?
Latest episode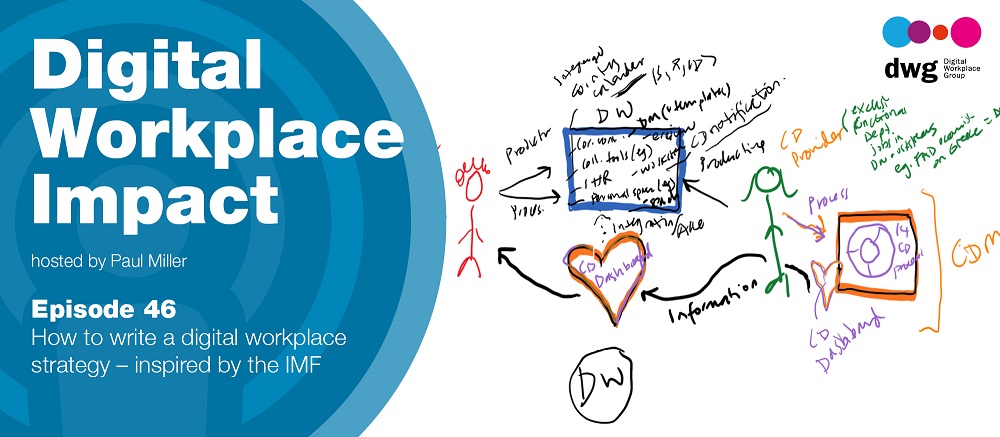 Episode 46
How to write a digital workplace strategy – inspired by the IMF
The International Monetary Fund (IMF) is embarking on a radical project to replace existing technology with a new digital workplace to improve productivity, collaboration and knowledge management.
Follow the conversation with Nisreen and Ahmed as they explain how the project came about; describe their approach; and marvel at the power of a stick man sketch!
Listen
Who is Paul Miller?
Business and social entrepreneur Paul Miller is CEO and Founder of Digital Workplace Group (DWG). His latest book, The Digital Renaissance of Work: Delivering digital workplaces fit for the future (co-authored with Elizabeth Marsh), was shortlisted for the Management Book of the Year 2016 Award, and his previous book, The Digital Workplace: How technology is liberating work, helped to popularize and explain the term "digital workplace". Paul hosts the Digital Workplace Impact podcast, is Executive Producer of the 24-hour global digital experience Digital Workplace 24, and hosted the pioneering internet radio show Digital Workplace Live for five years. He has given many inspirational talks on the digital future of work, for audiences at Microsoft, IKEA, Google, Accenture, Harvard Business Review, Cisco, European Commission, IMF, Adobe and Oxford University.
Paul was ranked one of the world's Top 50 Social Employee Advocacy Leaders in 2015. Prior to founding DWG, he was Founder and CEO of communications company The Empowerment Group; Publisher and Editor of social and digital innovation magazine 'Wave'; and, in pre-internet days, Co-founder of the Ideas Café salon. He lives in the Cotswolds in the UK.
Connect with Paul on Twitter: @paulmillersays
See more about Paul Miller on: Wikipedia
Other episodes
Episode 45
Why American Express is in a class of its own
In this episode of Digital Workplace Impact, we learn about the winner of the Digital Workplace of the Year Award 2019 American Express. Tune in and hear from Gary Kensey, Vice President of Technology, as he talks about what it's like to be recognized in the awards, what makes for a winning digital workplace, lessons learned along the way (and pitfalls to watch out for) and the focus for the future.
Listen
Episode 44
How a new 'decentralized web' will change the world of work
There's a growing group of inspiring people from around the world who believe that the web is failing us, and envisage a new web, which is more open, private, secure and fun, known as DWeb.
Paul speaks to Wendy Hanamura, who tells us more about the DWeb movement; explains why we need to reboot our relationship with technology; and describes what a new online world could, and should, look like.
Listen
Episode 43
Inside Adobe and GE: Natural worlds of work
As new generations come through; as people seek purpose (and passion) in their work; as the consumer's voice becomes more and more powerful – is the organization moving from a mechanistic view to a natural, living system view?
Listen to this enlightening conversation unfold as Paul and his guests discuss topics such as human-centred design, prototyping, AI and machine learning, and whether these are ushering in the digital-age's "organization as a living system".
Listen
View all Podcasts