Creating business value through strategic alignment and adoption planning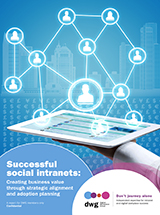 Lack of strategy, spotty adoption, and the absence of a strong business case have been identified as key barriers to successfully deploying social intranets.
This report seeks to provide some clear guidance on both building a social intranet business case and addressing the challenges of adoption.
Value must be rooted in the purpose behind each technological element selected for the social intranet, rather than in the technology itself.
The report challenges the ROI requirement, and instead looks at the task of demonstrating the value of a social intranet, based upon:
identifying priorities and challenges
aligning the social intranet with business processes
demonstrating value
encouraging leadership and adoption
Cost
The executive summary of this report is available as a free download. Please refer to the DWG Research Terms & Conditions of Usage before downloading.
Need help?
For general inquiries: nancy.goebel@digitalworkplacegroup.com or telephone + 44 (0) 20 7435 6606.
About DWG research
The Digital Workplace Group (DWG) carries out research into best practice in intranet and portal deployment. Covering the hottest topics in the intranet world, the studies we undertake are rooted in practical examples from among DWG member organisations as well as leading non-member companies. The results of this in-depth research act as a basis for decision-making, a source of ideas, and the basis for rich interactions between participants at DWG meetings. Generally, members are given exclusive access to our findings, although we do from time to time make a report available to non-members for a fee.