Large organizations have a multitude of ways to sort through their digital workplace needs and priorities in order to create a strategy.
Each lens can shed a different light on the digital workplace – the value it delivers, the gaps in its coverage, etc.
I recently found myself wondering how the digital workplace – and employee experience more broadly – appear when seen through the lens of Maslow's hierarchy of needs.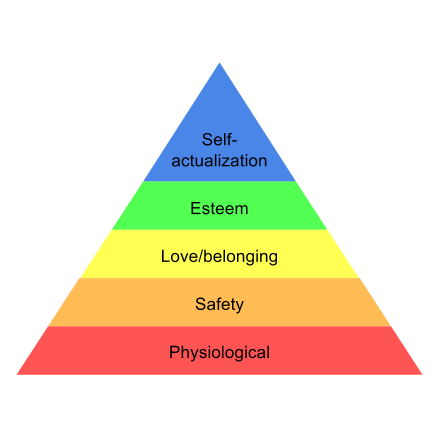 Spotting digital workplace opportunities
Interestingly enough, Maslow designed the hierarchy not by studying sick people, but by studying highly successful and healthy people. So perhaps the hierarchy is, in fact, a strong lens for forward-thinking digital workplace leaders to identify valuable opportunities that can drive their digital workplace roadmaps.
A strategic assessment can look for risks, pain points and areas of need. But using an "opportunities" lens can create a very positive, future-facing exercise. By examining the digital workplace via Maslow's hierarchy, teams can rethink the purpose of the digital workplace and, perhaps, spot innovative and creative ideas they might not otherwise have seen.
Employee experience and Maslow's hierarchy
Leading organizations today take on what DWG CEO Paul Miller has called the "inside-out"  approach to digital transformation and customer experience. Building a stronger and stronger employee experience helps leaders attract and retain talent, build stronger teams, support and enhance a strong positive culture, and deliver better products and services.
Employee experience provides a broader view into which the digital workplace falls. It encompasses the digital and in-person, and it spans from employer branding and recruiting through the full employee lifecycle to employee alumni communities.
Maslow's hierarchy can expose tremendous employee experience opportunities, inclusive of the digital workplace.
| Maslow's hierarchy | Related elements of employee experience |
| --- | --- |
| Self-actualization | Career lattices, transfers and promotions; mentoring; coaching leaders; corporate social responsibility |
| Esteem | Recognition for good work; team members that recognize each other's work; supported learning opportunities |
| Love/Belonging | Connection with colleagues; community; caring teams |
| Safety | Secure physical workplace; information security and privacy; safety from bullying; fair and ethical workplace practices; clear roles, expectations and performance management processes |
| Physiological | Good pay, reliable healthcare, ability to do core job |
The digital workplace and Maslow's hierarchy
Similar to the broader employee experience view, we can look at how the digital workplace specifically lines up with Maslow's pyramid.
Maslow's hierarchy
Related elements of employee experience
Self-actualization

Career progression tools and processes


Digital resources to build managers' mentoring and coaching abilities


Personal philanthropy matching systems



Esteem

Employee recognition systems, formal and informal


Learning platforms and digital content



Love/Belonging

Digital spaces for communities of practice


Digital spaces for communities of interest


Digital channels for connecting with mission and culture


Social digital tools that feel human and foster connection



Safety

Digital integration with physical security


Effective infosec and digital privacy


Standards for respectful digital communication


Tools for setting objectives, tracking progress, managing performance



Physiological

Tools and information for easy access to employment benefits


Effective digital tools for core jobs (vary greatly by job)


Access to needed information for core jobs


Digital tools and processes for effective teamwork



Evolving to new digital workplace insights
Maslow's hierarchy of needs is just one lens, one possible way to look for opportunities and set strategy. A formal benchmarking of an intranet and a digital workplace can yield specific, numeric, metrics based information-quanta. But not everything is measurable.
Maslow's hierarchy is a softer approach that represents the growing pace of innovation and investment in the digital workplace and employee experience.
If this lens is helpful, I'd love to hear about it in comments on this post. And please share other lenses you've used to assess your digital workplace.
In the age of cloud computing, connected devices, artificial intelligence and a new generation that knows how to code by the time it can write, all bets are on for digital workplace innovation. Every perspective we can find will help with that.
Related research and resources
The Inside Out Digital Leader
Download executive summary»
Arrange a call to learn more
Contact our team »