The keys to successful content migration
When done well, content migration provides a strong foundation on which to build a successful intranet, with the best user experience and longevity. Unfortunately though, a commonly held opinion is that migration of intranet content to a new platform is considered a chore.
This episode explores DWG's report "The eight phases of intranet content migration: How to make the move", which outlines a model workflow for how to deliver intranet content migration in a project over eight phases and how to avoid unintended consequences further down the project timeline.
Guest speakers: Nicole Carter, consultant and researcher at DWG, and Allan Tanner, Senior Manager, Digital Communications at Standard Life Aberdeen
Subscribe to Digital Workplace Impact
The Digital Workplace Impact podcast explores the ideas, practices and people impacting the new digital worlds of work. For each episode Paul Miller, the Founder and CEO of Digital Workplace Group, meets interesting and inspiring people who are pushing digital boundaries.
We're busy producing more episodes of Digital Workplace Impact. Make sure you never miss future shows by subscribing. You can do this via Apple Podcasts as well as through Stitcher Radio, SoundCloud and Spotify.
Catch up with all Digital Workplace Impact podcasts by visiting our library. And if you've enjoyed the show why not give us a rating, provide some feedback or let us know what themes you'd like us to cover on future episodes via the comments box below. Happy listening!
Take the next step…
The eight phases of intranet content migration:
How to make the move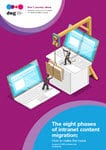 Become a
DWG Member
Categorised in: Uncategorized