Love intranets? Proud of yours?
Then you're in the right place
My Beautiful Intranet 2014
Is over, but
will be back…
The My Beautiful Intranet competition lets hard-working intranet and digital workplace teams take the spotlight.
See the winners of the 2014 contest.
See all the entries from 2014.
See the 2013 entries for My Beautiful Intranet (Goes Social).
See DWG's full library of intranet screenshots for a huge dose of inspiration.
When is the next My Beautiful Intranet?
Join the DWG mailing listfor updates about #mbicontestand digital workplace resources.
Digital Workplace 24
Webinar content for every time zone.Intranets, collaboration, mobile.
May 20th & May 21st
---
Submissions, voting, deadlines, criteria
Submission deadline: Friday, May 16th, 2014
Voting deadline: Friday, May 23rd, 2014
Winners announced: Tuesday, June 3rd, 2014
Eligibility: Intranet teams only, no vendors or consultants.
We will announce the winners (two of them, one for each contest) on the June 3rd episode of Digital Workplace Live.
While we appreciate enthusiasm about intranets, obviously patterned voting by groups of individuals or bots will be factored in in determining the finalists for the contest.
Prize package for winning teams
Receive a free session with one of DWG's Usability Evaluators, 10 copies of the new book Digital Renaissance of Work, an appearance on Digital Workplace Live and, of course, a trophy.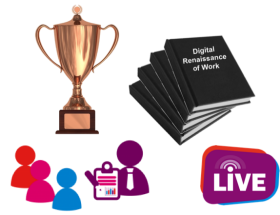 ---
My Beautiful Intranet 2014 Contest
My Beautiful Mobile Intranet 2014 Contest
Johnson & Johnson support some great charities by providing surgical instruments for life saving surgery for children who are born with a cleft lip or palate. Much of this great work takes place across the Asia Pacific region, and employees …
Verizon is passionate about providing the highest quality resources to its 200,000+ employees, and Human Resources is a huge part of what makes the company tick. The "About You" portal is the one-stop shop for all our employees to get …
The University of Liverpool's 'PC Finder' mobile web app was built by our in-house development team, in response to feedback from students that it could be difficult to find an available PC on campus at peak times – particularly during …
Contest fine print
Contest entry terms & conditions
Share the contest online
21 great examples of
social intranets
How tools for frontline
employees drive value
Intranets & more on Pinterest
More intranet screenshots
Digital Workplace Live