Date/Time
Date(s) - Apr 23, 2015
6:30 pm - 10:00 pm
Location
Ham Yard Hotel
Categories
Avanade, a global technology consulting firm, is a joint venture of Microsoft and Accenture With offices around the world and a focus on delivering advanced digital workplaces, Avanade is a wonderful partner for the Digital Workplace Group (DWG).
Avanade is hosting this special dinner for digital workplace executives to discuss the future of work, the trends affecting the digital workplace, and strategies from major global organizations.
Paul Miller, CEO and Founder of the Digital Workplace Group (DWG) will open the evening with a unique perspective from across leading global enterprises and how they are benefiting from a digital workplace fit for the future.
Graeme Hackland, CIO of Williams Martini Racing, will share his journey towards creating a workplace that is driving faster innovation, productivity and a competitive edge.
Together with experts from Avanade and Microsoft, event attendees will discuss the opportunities and challenges to realising new ways of working including work/life blurring, changing demographics, the role of leadership and the fragmentation of work and jobs.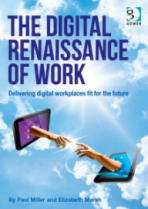 Paul's talk will be rooted in the new book Paul co-wrote with DWG Director of Research, Elizabeth Marsh, called The Digital Renaissance of Work: Delivering digital workplace fit for the future.