CASE STUDY: Defining a strategy and requirements for a social intranet
How DWG helped a mission-driven nonprofit
collect insights and craft a user-focused roadmap
---
THE BUSINESS CHALLENGE
Identifying user needs to build your strategic roadmap
Building an effective intranet can sometimes be a case of which comes first, the chicken or the egg. In an ideal world, we'd have all the time we needed to carry out user research, identify our requirements, select the most appropriate technology, implement the right processes and governance, and then tweak the platform as necessary. But we don't often find ourselves in an ideal world; more often than not, the technology is already in place and we need to work to improve on what we already have.
The client, a mission-driven nonprofit organization, was in the latter camp, with an opportunity to step back from its newly upgraded platform and revisit the needs of the business and the users. It had implemented an innovative results-focused work environment, which allowed people to work flexibly and already operated in a highly collaborative fashion. Now its intranet needed to step up to the challenge and be incrementally improved to better support the way people were working – or aspiring to work.
Questions the client needed help with answering were:
How could the intranet support its strong culture of community, while operating a results-focused work environment?
What social technologies could enable further collaboration and knowledge sharing?
What path should it take to move to an improved social intranet?
The client
This nonprofit organization serves a diverse, global network of tens of thousands of professionals in a specific area of the healthcare industry and currently employs over 300 people.
---
WHY DWG?
Real-world experience with enterprise social
The client was looking for an organization that had strong experience and expertise around what an effective intranet looks like, and specifically how social technology can support collaboration and knowledge sharing.
After finding us through a search of the web, the client's team had an initial call with our Head of Consulting, Julie Lakha. This helped us get to know what they were looking for and also to dig a little deeper into their specific challenges in order to suggest a potential approach that we would adopt when working with them. The call also gave them the confidence that we understand the social intranet landscape.
From that first call, it was clear that the partnership was going to be a strong one. We had a sound basis in research that aligned with their own approach, combined with practical experience that meant we already understood many of the challenges they were facing. For us, we were excited to team with an organization that was working through the challenges and opportunities of a results-only work environment, as well as one from the nonprofit sector.
Overview of DWG
The Digital Workplace Group (DWG) provides large organizations with independent expertise for success with intranets and broader digital workplaces.
Our Member Forum offers confidential peer learning and expert research. Our Benchmarking provides sophisticated evaluations, comparisons and recommendations. Our Consulting Services provide strategic guidance and hands-on implementation support.
---
OUR APPROACH
Internal and external research, and a strategic roadmap
Working with the client, we agreed that we would follow three main phases: a period of discovery and insight; the identification of business requirements; and the development of a strategic roadmap. This would help give our consultants all the knowledge they needed to show the client just how its intranet could be transformed into a platform that supported collaboration and knowledge sharing, and would mirror its strong sense of community.
We allocated two consultants who specialize in the client's precise needs, with one covering how social technology could support them and the second developing a clear strategic roadmap.
Service
What we did
Internal Discovery
To orientate our team and build a solid foundation for the remainder of the project, we kicked off with a phase of internal discovery.

Our Consultant undertook a range of fact-finding exercises, including:

in-depth discussions and interviews with key team members, stakeholders and a cross-section of employees
a review of existing strategy and related documentation, including previous user research.

External Insight
After agreeing key relevant themes of interest – such as how a social intranet can support collaborative working – our Consultant carried out research into pertinent case studies, to demonstrate the impact an effective approach can have.
Business Requirements
With key business priorities and user stories identified, our Consultant developed a comprehensive set of business requirements.

These listed out key technological functionality that would support both the business objectives of the client and the more specific needs of users.

Strategic Roadmap
Handing over to our Lead Consultant, we developed a high-level strategic roadmap that would guide the client beyond our project.

Building on key themes identified through the Discovery, Insight and Requirements phases, we provided specific steps that should be followed to move the project forward.
The DWG team
Project Manager: Elizabeth Marsh, DWG's Director of Research, managed the project, looking after timescales, communication, and providing guidance and input to the recommendations.
Lead Consultant: Mark Morrell, who has direct experience of developing intranet strategies, was our Lead Consultant for this project, taking on the development of the Strategic Roadmap.
Consultant: Shimrit Janes, who had previously carried out research into successful social intranets for DWG, undertook the Discovery, Insight and Business Requirements phases.
---
THE RESULTS AND OUR IMPACT
Building a strong social intranet to reflect a strong culture
We provided the client with fully documented business requirements that were not only clearly mapped to their needs but will also give the team the confidence and agency to take those requirements forward into the next phase of their project.
The impact included:
Revealing strategic alignment: It became clear that the key stakeholders were on the same page in terms of the potential for the client's intranet and in fact had exciting ideas around how it could better support users and also play a role in the client's wider digital workplace.
Defining what collaboration means to them: The project helped the client team break down exactly what they meant by "collaboration". Our Consultant identified two main types of collaboration that needed to be supported, as well as specific areas in which these applied. This is turn helped shape conversations with the client and also drove the creation of the business requirements.
"Social" rooted in business priorities: One of the challenges around social technology is tying it back to a business need. Our work with the client's team helped them to see a direct relationship between different types of functionality and how this would support their users' priorities and challenges.
Additional areas of improvement: "Process, People and Technology" is a well-known triad. In addition to identifying platform requirements, we went over and above our scope to also recommend areas where process could be improved and additional opportunities focused on personal development.
Validation of a strong, positive culture: Ultimately, our interviews revealed that, even though improvements could be made to the technology and some of the client's processes, its culture was founded on a strong sense of community and professionalism.
RELATED RESEARCH:
Successful
Social Intranets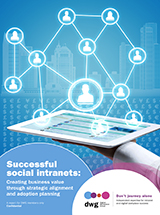 ---
RELATED APPLICATIONS OF THIS SERVICE
This project really demonstrates the importance and strength of "Discovery and Insight" for providing a firm foundation to any programme. For the client, we applied this service to the development of its social intranet (and specifically collaboration). However, this service – together with defining business requirements and creating a roadmap – could be applied to a large variety of digital workplace initiatives, such as:
Related case studies
---
ABOUT DWG CONSULTING SERVICES
DWG Consulting Services provides vendor-neutral, unbiased and high-quality advice, and practical hands-on support for digital workplace and intranet programmes. This work is rooted in our decade plus of providing measurement and research-driven membership services and our team's experience of working within large organizations.
Get in touch
Contact the DWG team to request:
An exploratory call
A price quote
An RFP response
A statement of work