You are here:
Home
»
News & Events
»
How and why physical workplaces change the way we work
Latest episode
Episode 20
How the World Bank digitally empowers the young in developing nations
This episode of Digital Workplace Impact takes us on a tour of the globe and explores how technology is enabling developing nations to kickstart their economies and inspire their younger generations. Paul Miller speaks with Samia Melhem, Global Digital Development Lead at the World Bank's Transport and ICT Practice.
With a dramatic rise in entrepreneurial spirit among the young, as well as the speed of response that comes with social media, governments need to digitally modernize from within to inspire and cater for the needs of their fledgling citizens. Paul and Samia discuss what is needed to drive these projects forward to a successful completion; how the word is spreading; and why ICT (information communication technology) has been key to the breakthrough in so many developing countries.
Listen
Other episodes
Episode 19
How and why physical workplaces change the way we work
The first Digital Workplace Impact podcast of 2018, hosted by Paul Miller, investigates wellbeing (a very topical subject for January!) with Sally Augustin and Christine Kohlert.
Wellbeing in the workplace has benefited from a sea-change in recent years, with organizations taking it more seriously and working harder to retain employees. Tune in to hear the trio discuss the impact of wellbeing on employee output; how digital workplaces can have an adverse effect on our wellbeing; balancing company and local cultures; and napping at work!
Listen
Episode 18
Paul Miller's digital workplace predictions for 2018
In this special episode of Digital Workplace Impact, instead of being the interviewer, Paul Miller, CEO of DWG, is the interviewee. Paul talks us through his 10 digital workplace predictions for 2018, with the objective of helping digital workplace teams to anticipate industry trends along with their implications.
Now in his fifth year of predictions (and with a strong track record), tune in to find out what Paul believes the digital workplace has in store for us!
Listen
Episode 17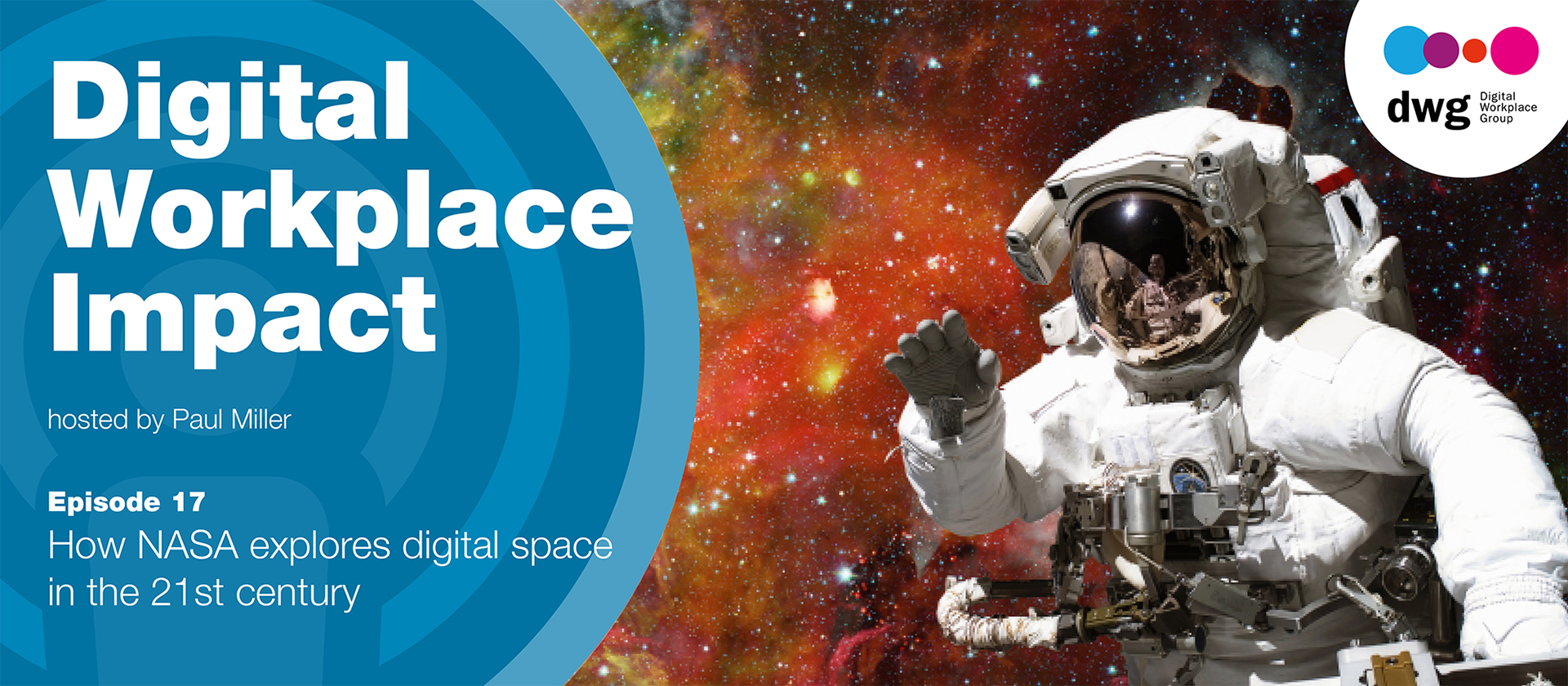 How NASA explores digital space in the 21st century
Since its inception in 1958, NASA has accumulated a wealth of data and information as part of its spectacular research programme. One of its most significant challenges is how to turn this data and information into actionable knowledge. As Chief Knowledge Architect, our guest, David Meza grapples with this challenge every day.
Hear David's thoughts on what it's like to work at NASA; our (sometimes unhealthy) dependency on technology; and how the digital workplace has influenced team dynamics (and the demise of the ego!).
Listen
View all Podcasts