Latest episode
Episode 48
Driving Stagecoach to the mobile frontline
Stagecoach is one of the largest bus operators in the UK, and employs 25,000 people, the majority of whom are frontline workers. From an under-used, desk-orientated intranet to a much-loved mobile app, Ricky and his team have been able to deliver real benefits to drivers and engineers.
Listen
Other episodes
Episode 47
How EY engages the most connected young workers
With 68% of EY considered digital natives, the focus is on providing the ultimate employee digital experience to suit this (growing) audience.
Recorded in person at a DWG Member Meeting in New York, Chase Mohr and Jess Woods talk to Paul Miller to explain how EY is engaging the most connected young workers, through innovative product design, tailored search experiences and an unexpected chatbot!
Listen
Episode 46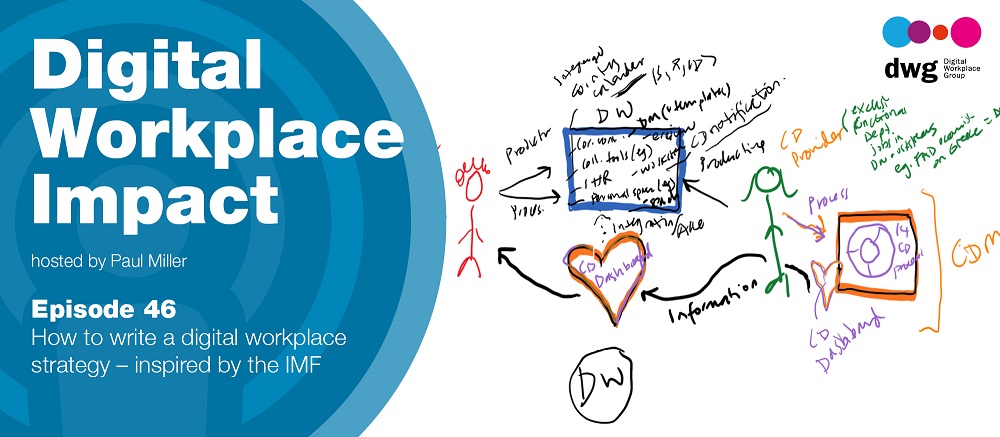 How to write a digital workplace strategy – inspired by the IMF
The International Monetary Fund (IMF) is embarking on a radical project to replace existing technology with a new digital workplace to improve productivity, collaboration and knowledge management.
Follow the conversation with Nisreen and Ahmed as they explain how the project came about; describe their approach; and marvel at the power of a stick man sketch!
Listen
Episode 45
Why American Express is in a class of its own
In this episode of Digital Workplace Impact, we learn about the winner of the Digital Workplace of the Year Award 2019 American Express. Tune in and hear from Gary Kensey, Vice President of Technology, as he talks about what it's like to be recognized in the awards, what makes for a winning digital workplace, lessons learned along the way (and pitfalls to watch out for) and the focus for the future.
Listen
View all Podcasts